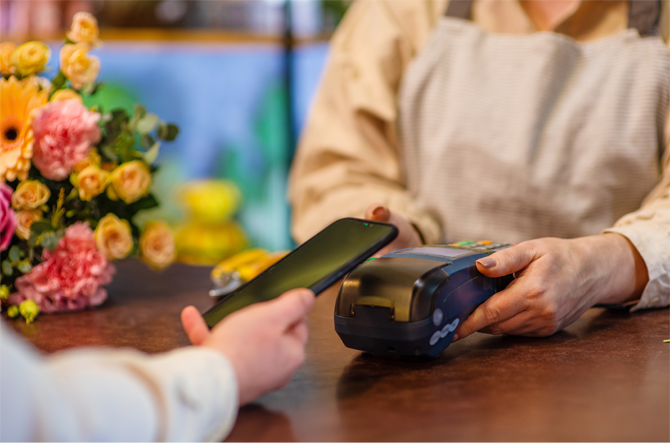 7 Benefits Of Mobile Card Readers
With a traditional desktop POS system, you can securely process payments at the checkout counter. With a payment gateway, you can sell goods and services entirely online. Mobile card readers bridge the gap between these two payment options — allowing you to conduct business across a wider range of situations.
This article explains what mobile credit card readers are, how they work and what benefits emerge once you incorporate them into your payment environment.
What Is a Mobile Card Reader?
Although there are dedicated POS terminals that are small enough to fit in your pocket, a truly mobile card reader involves converting your existing smart phone (or tablet) into a portable POS machine. Because of this mobility, you can securely process card-based sales wherever business takes you. This could be in the store, at the curb or even out in the field at trade events or on deliveries. Some mobile credit card machines also support in-app payments, which allow your customers to shop "online" just as they would with a traditional e-commerce site.
How Do Mobile Credit Card Readers Work?
Converting an existing smart device into a portable credit card terminal is relatively straightforward. In most cases, you will need:
A miniature card reader that physically or wirelessly connects with your mobile device. This attachment is what customers use when swiping, dipping or waving their plastic — just as they would with a traditional POS machine.
A software app that allows you to securely capture, encrypt and transmit payment details from the customer's bank to your bank and the payment processor.
Once configured correctly, your mobile credit card reader should function almost the exact same way as a desktop POS machine — with the key difference being size and portability.
Benefits of Mobile Payments
Mobile card readers are relatively new in the payments industry. They've gained in popularity over the years as merchants and customers alike grow to appreciate the advantages of mobile payments. Some benefits include:
1. Simple and Fast Transactions
Mobile card readers represent one of the simplest ways to accept in-person payments. The setup is easy. The hardware costs are minimal (especially if you already have a phone). Plus, because the interface is similar to conventional POS machines, there's virtually zero learning curve — for the merchant or the customer.
2. 100% Secure
As long as they adhere to the latest PCI compliance standards, mobile card readers are every bit as secure as their desktop POS counterparts. In addition to magstripe plastic, they can also process EMV chip cards and contactless payments — both of which offer stronger security features.
3. Flexible
The ability to securely process payments anywhere is arguably the main driver behind the growing popularity of mobile credit card readers. They're robust enough to function as desktop POS machines that never leave the checkout counter, yet their portability allows that checkout counter to travel wherever you go.
4. Integrates Easily With Mobile Payment Options
In addition to magstripe, EMV chip and contactless cards, mobile credit card readers can also interface with other mobile devices. This allows your customers to buy your goods and services using any number of virtual wallets, including Apple Pay, Google Pay and Samsung Pay.
5. Faster Checkout, Shorter Lines and Happier Customers
Speed is another major selling point of mobile POS technology. This is because you can technically process payments anywhere in the store – not just at the checkout counter. This coverage can lead to shorter overall queues, more sales per unit of time and happier customers.
Better still, faster checkouts are more likely to bring folks back in the door. This is why some merchants incorporate mobile payment options as part of their customer retention strategies.
6. Email or Print Receipts
With a mobile reader, you have the option to provide customers with:
Electronic receipts sent via email, text or in-app
Paper receipts from a wirelessly connected printer
As you'll see, this record keeping automatically syncs with your payment environment — without your having to manually input every incoming sale.
7. Integrates With POS System Management Tools
At CardConnect, our mobile readers come with payment integration. This allows you to put more of your operations on autopilot, whether this means:
Instantly recording new sales in your existing accounting software
Running detailed reports to help you make better informed decisions about your business
Automatically ordering new supplies whenever stocks are low (and tracking this inventory in transit)
This seamless integration frees valuable time, allowing you to focus on more important aspects of running your business. It also saves money by removing the need for manual data entry.
Get Started Today!
It is difficult to overstate the importance of mobile payments. They offer the security and ease of desktop alternatives, plus the speed and convenience of e-commerce. That they're also portable allows you to generate sales anytime and anywhere.
To discover how CardConnect's mobile POS solutions can help you start claiming these benefits, schedule a free consultation with us today.