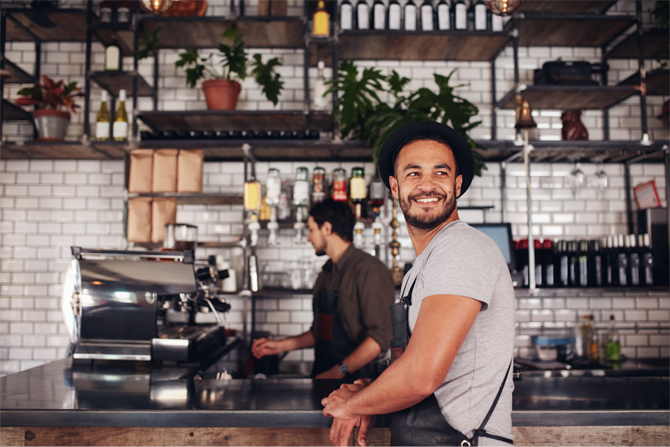 The past three decades have changed the landscape of the coffee shop industry. In 1991, there were just 1,650 coffee shops in the US, but this figure had increased dramatically to 31,490 by 2015. Although a large number of these shops are franchises or chains, the coffee business is booming and a good proportion are independent establishments.
If you're interested in opening your own coffee shop, we have taken an in-depth look at how to get this type of business up and running.
Writing your business plan
The first step in launching any new business venture is writing a comprehensive business plan.
You'll need to include financial forecasting, including information on any funding requirements, your general business running costs and your predicted profits. The more hard work you put into your business plan, the more chance your coffee shop business will have of being successful.
You can get a clearer idea of the costs involved in opening an independent coffee shop by using our custom startup cost calculator (please note these costs are indicative, and you can alter the figures for your own requirements).
Resources and equipment needed to launch a coffee shop startup
There are many elements for consideration, each of which will determine if your idea becomes a successful coffee shop. Equipment costs will be one of your main expenses; the most important piece of equipment you'll need to invest in is a good quality coffee machine. This will be the workhorse of your business, so it's essential that you invest in a reliable espresso machine that produces a very good cup of coffee. A good quality commercial machine will set you back at least $10,000. Other costs you'll need to consider include:
Espresso machine - $500 to $2,500
Coffee maker - $500 to $2,500
Coffee roasters - from $3,000
Refrigeration system - $500 to $12,000
Water filtration system - $1,500 to $10,000
Another important cost you will need to consider is your premises. The cost of buying, renting or even building a new coffee shop will vary dramatically depending on the size, spec and location of the premises.
If you decide to rent your space, ideally, your rent shouldn't exceed 15% of your sales. Do some research into real estate companies in your local area who specialize in commercial premises. Look at the different options available in your city to get an idea of how much you can expect to pay every month.
Hiring a team and finding vendors
Having a good, skilled team of staff is crucial to the success of your business, especially in an industry as fast-paced as the coffee shop industry. If your staff aren't up to job, you won't see the results you're looking for. The average yearly wages for coffee shop workers in the US include:
Another ongoing cost you'll need to factor in is inventory:
Coffee beans
Paper cups
Napkins
Filters
Stirrers
Straws
Lids
Food and drinks - including juices, water, baked goods, sandwiches
Condiments - packets of sugar, sugar substitutes, syrups
Milk and milk alternatives
Good quality coffee beans and other essential ingredients can be expensive, such as filters, cups, milk and milk alternatives. You need to ensure that you can sell your coffee for a price that allows you to make a good profit on every cup.
The average price for an espresso-based coffee drink is currently $3.45, while brewed coffee costs customers an average of $2.38. As each sale you make will be relatively low value, you need to ensure you buy your coffee beans from vendors that offer consistently low, competitive prices.
Getting your paperwork sorted
There are a number of licenses and permits you need to obtain as a coffee shop owner. Among the most important are:
Business License
Employer Identification Number
Certificate of Occupancy
Food Service License
You might also need to consider a liquor license if you plan on serving speciality coffees.
Choosing a payment solution for your coffee shop startup
A point of sale (POS) system is an essential part of any business. You can expect a POS system to cost you between $50 and $200 a month, and you may also need to pay for the associated hardware that accompanies the system.
Look for a payment services provider that has experience working with startup businesses and that offers a range of supporting extras. If you're not sure whether you need a merchant account, you can read our guide on Merchant Services.
For more information on how payment processing works, read our Credit Card Payment Processing 101 Guide.
Marketing
Some small businesses spend between 5% to 8% of their revenue on marketing. You can spend as little as 3% of your budget on marketing and still get great results - the coffee shop industry is one where you won't have to put a lot into your marketing budget. Barista Magazine found that 70% of coffee shops spend less than $100 a month on marketing. As long you have a well-thought out marketing strategy in place, you could get away with spending next to nothing on marketing your new business.
Make full use of social media and other digital avenues to help keep your marketing budget to a minimum.
Coffee shop startup statistics
With a spend of anywhere between $80,000 and $250,000 involved in launching a coffee shop startup, it's important that you're motivated, energized and well-informed if you're going to take on the challenge.
However, with the industry growing at an average of 7% a year, now could be a great time to begin determining your niche in this competitive sector.
Starting your own business is incredibly rewarding, especially if it's a success. The most important part as a new business owner is getting your financial forecasting right. Make sure your costs breakdown is as accurate as possible to ensure there are no surprises along the way. Get started on your cost breakdown with our free startup cost calculator.