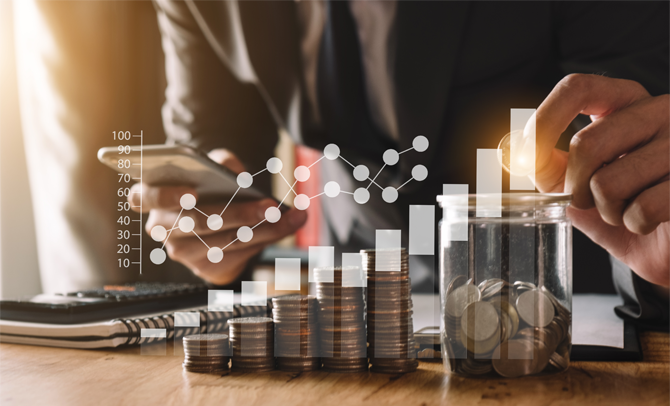 In 2014, global eCommerce sales totaled around $1.3 trillion. Today, they're worth an estimated $2.8 trillion and by 2021, sales are predicted to total $4.5 trillion.
This dramatic and consistent growth is largely being driven by customer demand and changing shopping habits. Almost two thirds of US shoppers with internet access now buy products in an online marketplace at least once a month, and the number of people who regularly make use of eCommerce sites is constantly increasing.
If you run a business from a physical location, and are looking for ways to expand your customer base, or if you're looking to start a small business with limitless geographical reach, an online store could be just what you're looking for.
Writing a business plan
There are several key topics that a business plan needs to include. The most important element of a business plan is the financial forecasting. As a business owner, you will need to take a detailed look at your funding requirements, your projected running costs and the predicted profits of your business. This information should be based on thorough, contemporary research, and should be specifically tailored to your business niche.
You can use our custom startup cost calculator to get a better idea of how much money you'll need to get your eCommerce business up and running (please note these costs are indicative, and you can alter the figures for your own requirements).
Resources and equipment needed for an eCommerce startup
As an online business, your startup will be relatively low-cost and won't have many upfront costs; your most important resource will be your website. As a bare minimum, you'll also need to pay for hosting, web development, maintenance and inventory. The average costs for eCommerce stores include:
Hiring a team and finding vendors
One of the most attractive aspects of starting an eCommerce company is that it needs very few people to get the business idea off of the ground. Although you can employ extra staff to help manage the site, pack products and ship orders, it's equally possible to manage these aspects of the business yourself.
If you decide you want to build an in-house team, you can expect to pay:
Web developer - $53,000
Ecommerce manager - $59,000
Director of eCommerce - $100,000
Another important consideration is the cost of your inventory. Whether you're making the products yourself or ordering them in from suppliers, you'll need to find vendors that offer a high-quality product at a reasonable price.
Obtaining insurance and permits for an eCommerce startup
Even though you're selling your products online and don't have a physical store, you'll still need a number of licenses and permits before you can begin trading. These can include:
Professional licenses specific to your industry
In most cases, you'll need to pay a fee to obtain the necessary paperwork. Contact your local authority to find out the rates in your state.
Choosing an integrated payment solution
As a new eCommerce business, you need to select a payment system that's fast, secure and easy to use. The cost of a comprehensive point-of-sale system can vary, with some companies taking a flat fee for the service they offer and others charging per transaction.
Shop around to find a payment processor that meets your needs and that gives you scope to grow in the future.
For more information on how payment processing works, read our Credit Card Payment Processing 101 Guide.
Marketing
Very few shoppers are going to discover your store by accident online. Search engines use algorithms to rank your website, and where to display it in their results pages, therefore marketing is an incredibly important part of an eCommerce site. Marketing costs can vary, but on average, eCommerce businesses spend between 7% and 12% of their total revenue on marketing. This money goes towards ad campaigns, social media campaigns and email campaigns that are designed to boost brand awareness and drive traffic to your online marketplace.
eCommerce statistics
The number of Americans regularly shopping online has increased from just 22% in 2000 to almost 80% in 2018. With current trends in growth and popularity showing no signs of stopping, eCommerce offers a wealth of opportunities to all ambitious entrepreneurs.
Starting your own business is incredibly rewarding, especially if it's a success. The most important part of starting any new business is getting your financial forecasting right. Make sure your costs breakdown is as accurate as possible to ensure there are no surprises along the way.